The complete line of Billingham products are available from Koh's Camera.Photo page of Billingham Bags. You don't even need a camera to want these bags!
Koh's Camera
2662 Jerusalem Avenue, North Bellmore, NY 11710
516/826-9566/67 Fax: 516/826-6257
Store Hours
10:00 am to 5:00 pm
Saturday 10:00 am to 3:00 pm
Closed Monday, Thursday and Sunday
If you have any questions, please click here to e-mail us.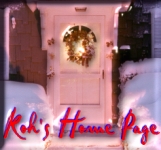 Koh Webmania Productions.
Copyright © 1999 [Koh's Camera Sales and Service Inc.]. All rights reserved.
Revised: April 01, 2014 .