We receive new stock every week; so be sure to call us
if you don't see what you are looking for!

Remember: "We Buy-Sell-Trade"

Koh's Camera
2662 Jerusalem Avenue, North Bellmore, NY 11710
516/826-9566/67 Fax: 516/826-6257
Store Hours
10:00 am to 5:00 pm
Saturday 10:00 am to 3:00 pm
Closed Monday, Thursday and Sunday
If you have any questions, please click here to e-mail us.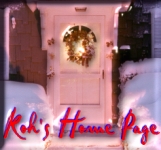 For more Nikon information, go to www.nikon.com.